12 Steps to More Twitter Followers
#1 Follow others – nobody will know you exist until you follow them. You can stop following them later if their Tweets are annoying or off-color
#2 Follow Back – etiquette says that if someone follows you on Twitter you should follow back. This may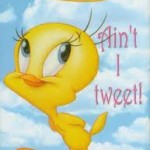 not happen with the Twitter Whales of the world like @dooce and @theonion but that is because they can't and wouldn't be able to reply to all the direct messages that would be coming to them. (You can only DM somone that is following you back.)
#3 Follow more people a day until you are following 2000 people – Don't follow more than 200 people per day because Twitter requires a percentage of followers to follow you back. If people don't #followback Twitter assumes your activity may be suspicious (or spam) and may shut off your account.
#4 UnFollow people who don't follow back – you may consider unfollowing someone that doesn't follow back until you get about 2000 followers. This will give you a better chance to have other folow you that will follow back.
#5 Follow people that RT, retweet others– this will guarantee that you have a following that will spread word and market your business if you are twittering for marketing purposes
#6 Follow in your geographic area – if you are a local business it is great to follow other local businesses, so search Twitter for cities or county's close to your service area.
#7 Follow a Twitter Whale – If you know a large business that has a large Twitter following and you would want similar customers you may want to follow the people that follow them to gain access to their viewers.
#8 Try auto follow software – to make life easier following a lot of Twitterers you may consider using software to help automatically followback.
#9 Use may try software that DM's people automatically like social oomph after they follow you.
#10 Create a nice DM for all your new followers and include a link that will take them to your website or an article of yours
#11 Use a tool like Tweet Deck or Hoot Suite to follow what is happening on Twitter and find more interesting people to follow.
#12 Create Twitter lists – Twitter lists are a great way to follow a lot of people instead of looking at your Twitter Feed. Organize who you are following into groups and get more useful information.
Good luck and have fun in the Twitter Sphere. It's a new world that will make sense to you real soon. In the end it is important to check on the rules of good following habits from Twitter. The rules occasionally change.