Can Your Customers Find You via Google Maps,  iPhone, or GPS devices? Local Search Gets you More Phone Calls.
A while ago in 2008, Google announced that it has changed the name of the Google Business Center to Google Places. While the announcement itself may not have raised many eyebrows, the statistics that Google included with the press release certainly did. According to Google, 20 percent of all searches were related to location. Since comScore reported that 14.3 billion searches were conducted through Google in March 2008, that meant that nearly 3 billion Google search queries contained local terms.
The Google announcement also contained the following statistics:
More than 4 million business listings on Google have been claimed by business owners (using the Local Business Center, now Google Places-just changed again to Google+)
Nearly 2 million listings have been claimed in the United States
Google has nearly 50 million Place Pages covering all types of places ranging from businesses to parks
Google Place Pages are viewed millions of times each day
These statistics were ground breaking and now show what we've known for years – local search optimization is a crucial part of any SEO campaign. If 20 percent of all searches come with local qualifiers, you could possibly be missing out on up to 20 percent of your potential traffic by neglecting to optimize for local search terms. Local Search Ranking Factors and Google Triggers that are verified by Google and many SEO teams are now used to design Local SEO Landing Pages. IN the past Google helped with understanding ranking factors, but in recent times they are much more vague.
To help local businesses further develop their local search strategies, Google announced a number of features that have been added to Google Places to help in the optimization of your business and probably to compete with online competitors like Yelp.
Businesses that serve clients throughout a geographic area can now mark the areas they serve.
Tags can be attached to Google Places profiles to promote business features or specials. Tags are only available in certain areas, which Google expanded today to include three new cities – Austin, Atlanta and Washington, D.C.
Google for a period of time sent photographers to businesses in select cities for free photo shoots of their interiors, but this is now discontinued.
Nothing too ground breaking, but for the times it was a great service and now with the introduction of Google+ their new local ranking factors are starting all over again.  So if Google is still investing into local search, shouldn't you? Start by optimizing for local search and improve your Google Places listing, then when it is complete head over to our article and see why Google+ is better than Facebook to bring in new visitors to your site.
Getting Local Mobile Leads
If your business serves local customers or gets local search traffic, a top local search or map ranking will result in a steady stream of new leads and customers via phone leads and in-store visits. Mobile phone searches have replaced all traditional product searches and is now competing with desktop for purchases. Google+ is the Yellow Pages of the future and according to a study conducted by TMP Directional Media, more users utilize online search engines to find local business information than the number of users actually using a print yellow pages directory. With more than 40% of all mobile searches conducted on Google having local intent.
And now for the original 2008 info you were waiting for.
The following chart reflects 2008 responses to the question: "Which of the following activities did you do as a result of this online local business search?"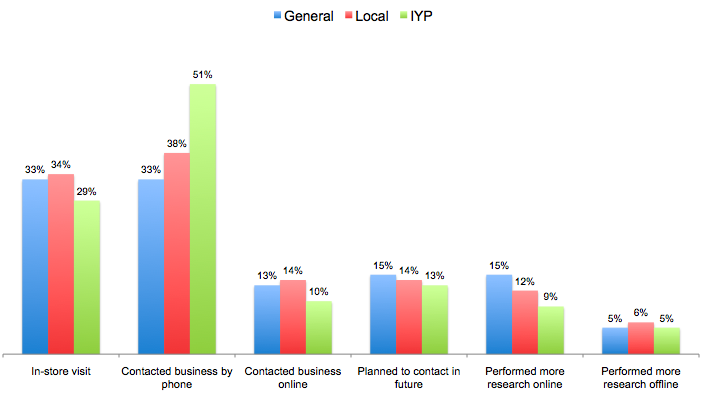 Isn't it time you powered your business with local search optimization? Call us today or request a free quote to get started.